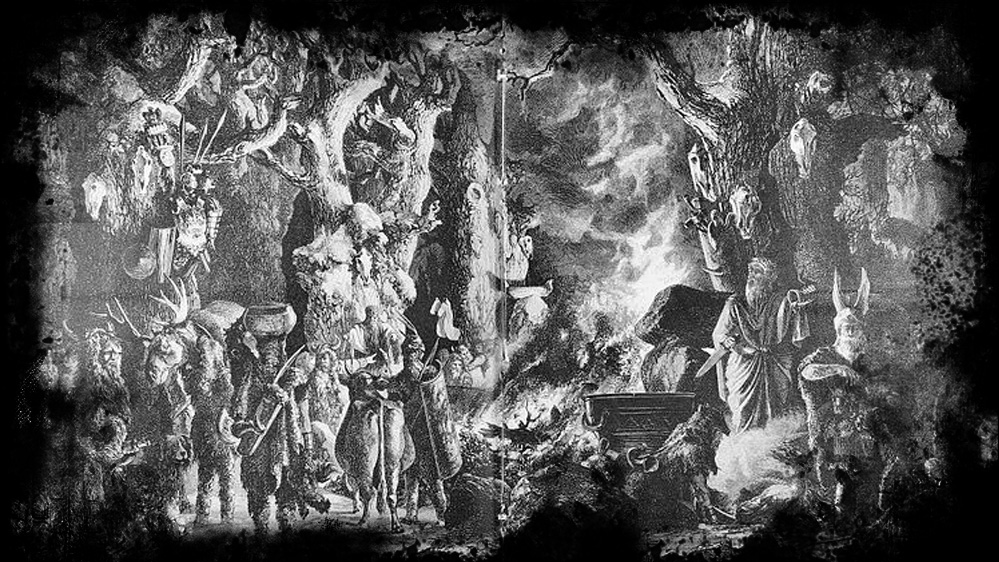 Yule ("Yule time" or "Yule season") is a festival historically observed by the Germanic peoples. Scholars have connected the original celebrations of Yule to the Wild Hunt, the god Odin, and the pagan Anglo-Saxon Mōdraniht.
Later departing from its pagan roots, Yule underwent Christianised reformulation, resulting in the term Christmastide. Some present-day Christmas customs and traditions such as the Yule log, Yule goat, Yule boar, Yule singing, and others may have connections to older pagan Yule traditions. Cognates to Yule are still used in the Scandinavian languages as well as in Finnish and Estonian to describe Christmas and other festivals occurring during the winter holiday season.
Yule is the modern version of Old Norse Jól and Jólnir one of the names for Odin. The Old English derivates ġēol or ġēohol and ġēola or ġēoli, indicates the 12-day festival of "Yule" (later: "Christmastide") and the latter indicating the month of "Yule", whereby ǣrra ġēola referred to the period before the Yule festival (December) and æftera ġēola referred to the period after Yule (January). Both words derive from Gothic 𐌾𐌹𐌿𐌻𐌴𐌹𐍃 (jiuleis); Old Norse, Icelandic, Faroese and Norwegian Nynorsk jól, jol, ýlir; Danish, Swedish, and Norwegian Bokmål jul, and are thought to be cognate with Proto-Germanic *jehwlą-.[ The etymological pedigree of the word remains uncertain, though numerous speculative attempts have been made to find Indo-European cognates outside the Germanic group, too. The noun Yuletide is first attested from around 1475.
The word is conjectured in an explicitly pre-Christian context primarily in Old Norse. Among many others (see List of names of Odin), the long-bearded god Odin bears the name Jólnir ('the Yule one'). In Ágrip, written in the 12th century, Christmas, jól is interpreted as coming from one of Odin's names, Jólni(r). In poetic language, a plural form (Old Norse jóln) may also refer to the gods collectively. In Old Norse poetry, the word is found as a term for 'feast', e.g. hugins jól ('a raven's feast').
The events of Yule are generally held to have centered on midwinter (although specific dating is a matter of debate), with feasting, drinking, and sacrifice (blót). Skål!