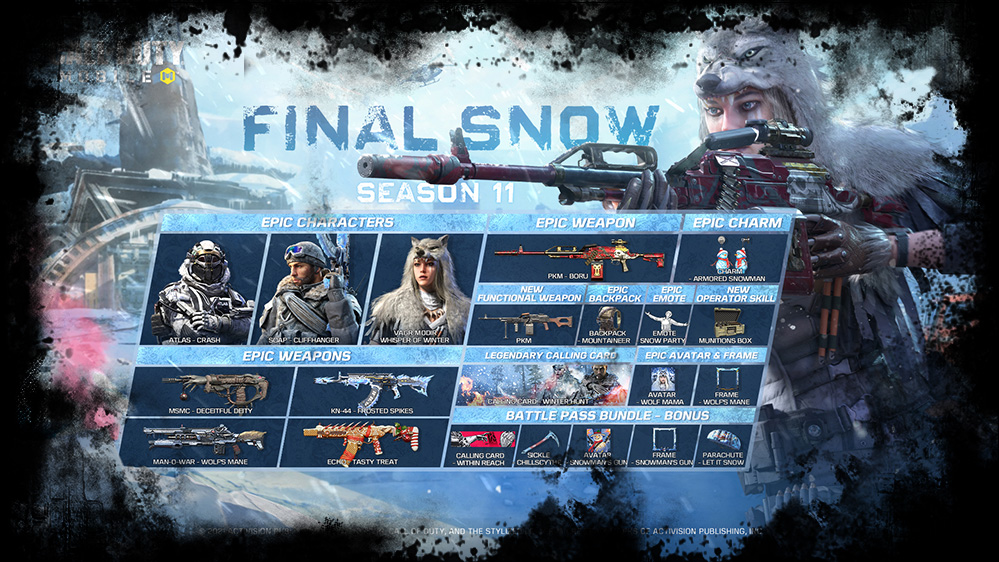 Call of Duty Mobile Season 11: Final Snow out now! It brings the Icebreaker Multiplayer map, new weapons, a new Operator Skill, Undead Siege — Nightmare mode, 12 Festive Days of Deals, and more.
A battle erupts in the Arctic as Templar tracks down the Dark Covenant, seeking to end their alliance once and for all. Witness the epic conclusion to a two-year story arc in Final Snow, the eleventh season of Call of Duty: Mobile for 2021. Season 11 brings the Icebreaker Multiplayer map, the PKM LMG and D13 Sector Launcher, the Munitions Box Operator Skill, Undead Siege — Nightmare mode, and plenty of holiday celebration.
Season 11 closes out the year in epic fashion, packed with new content and holiday-themed events. Final Snow goes live on December 16 at 4 PM PT. Here's what you'll be playing:
Wintry Rewards in the Final Snow Battle Pass
Season 11 brings a brand-new Battle Pass, including free and premium items like new Operators, a new functional weapon, Weapon Blueprints, Calling Cards, Charms, COD Points (CP), and more.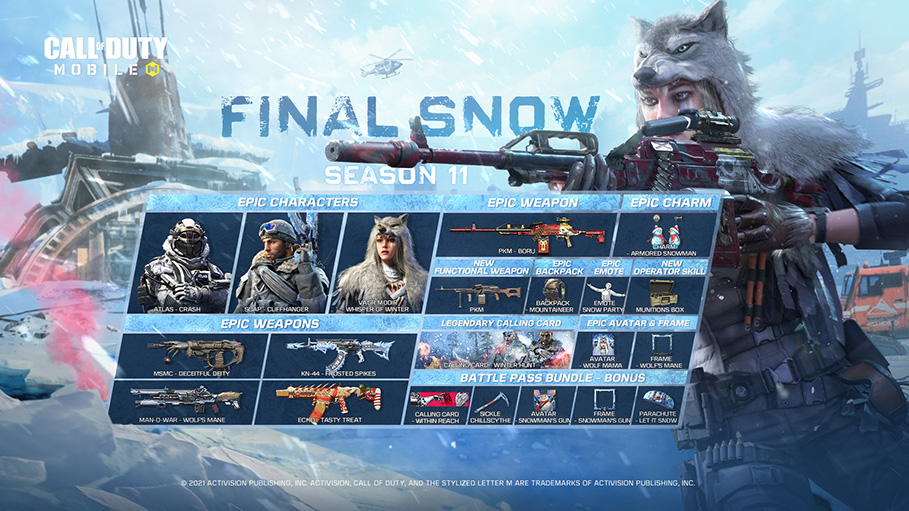 Battle Pass Free Tiers
Earn the new Munitions Box Operator Skill at Tier 14, allowing you to spawn a Munitions Box that replenishes ammo and tactical equipment for the team and explodes when destroyed. At Tier 21, get the PKM, a slow but powerful LMG. Other free Tier items include the UL736 – Polar Light, the Sticker – Royal Rule, the Warm Plaid camo series, and more.
Premium Pass Tiers
Purchase the Battle Pass for the chance to earn all of the content available in the Final Snow stream. Get Arctic-themed Operators like Vagr Modir – Whisper of Winter, Soap — Cliffhanger, Atlas — Crash, and Keegan.
Send an icy shiver up your enemy's spine using the PKM — Boru, the KN-44 — Frosted Spikes, the MSMC — Deceitful Deity, the Echo — Tasty Treat, and more. These Weapon Blueprints are all part of the Season 11 Battle Pass, with some truly inspired designs set to bring added style to your Arsenal.
Celebrate with Three Snow Maps, New Snow Fight Mode
The winter season is in full swing, as three wintry Multiplayer maps join the rotation in Season 11, including the new Icebreaker map and the return of Holiday Raid and Nuketown Russia.
New Map: Icebreaker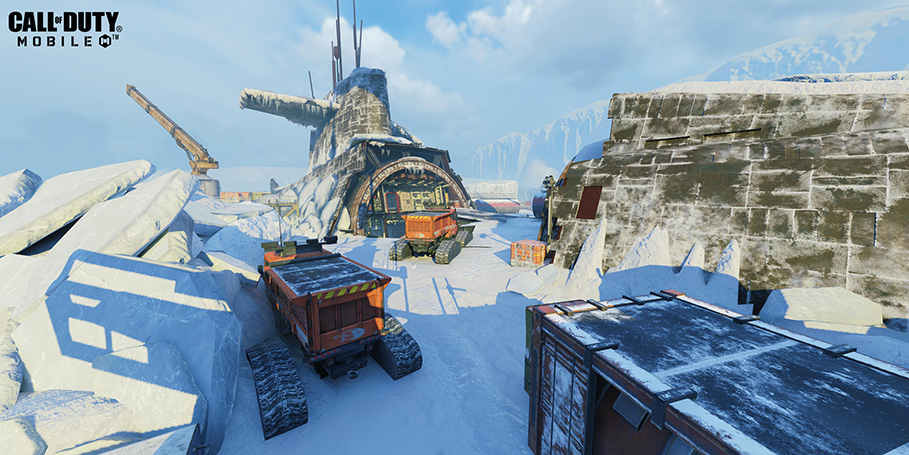 First seen in Call of Duty®: Black Ops 4, Icebreaker centers battle in and around a long-lost nuclear submarine stranded in the Arctic. Tough it out in the frigid air of this medium-sized map, or try your luck on the sub's icy decks where combat ensues at every turn. And when the fighting gets hectic, dive into the water to make a detour and flank the enemy threat.
Holiday Raid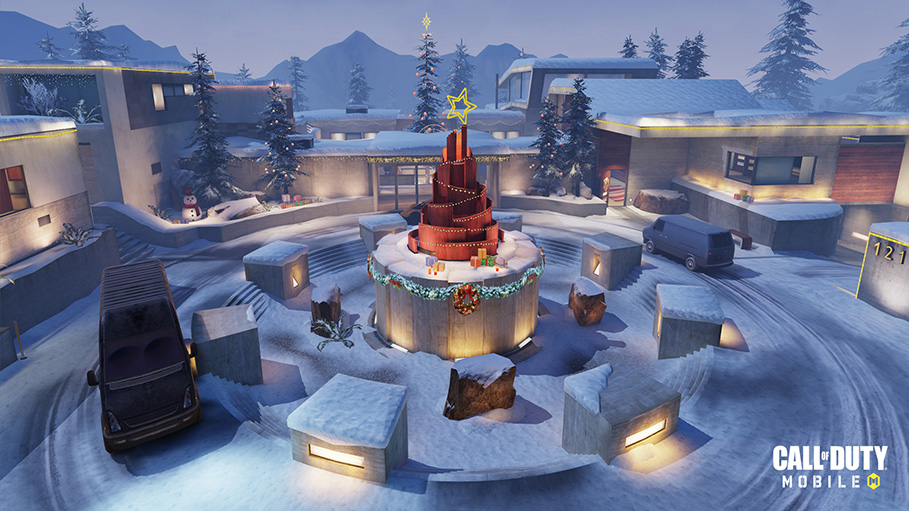 No holiday is complete without the arrival of Holiday Raid. Tread the estate's snowy grounds and bask in the spirit of giving as you pummel your enemies to the ground.
Nuketown Russia
Nuketown Russia returns for the holidays, blanketing everyone's favorite chaotic map in a layer of blissful snow. Need a refresher for the change of location? Revisit last year's Mobile Snapshot: Nuketown Russia article for tips to help you top the scoreboard in cheerful holiday fashion.
New Multiplayer Mode — Snow Scuffle
Pack it tight and aim for the head. In Snow Scuffle, teams earn points by collecting enemy snowballs after slaying them (like dog tags in Kill Confirmed) and depositing them in the designated area.
Collect mystery gifts throughout the level to earn powerful items like the holiday-themed War Machine, or even the chance to temporarily become a snowman. As your team builds up points throughout the match, you'll earn different snowman Skins to show off during the victory screen. Now, that's what we call a fair winter fight.
Undead Siege — Introducing Nightmare Mode
The zombie threat is about to get a whole lot deadlier. Season 11 introduces the new Nightmare mode, featuring harder enemies, new Legendary tier turrets, and the addition of cranked zombies late in the match. Fight back using Perk Machines and Pack-a-Punch, and by discovering new deadly weapons like the Gravity Vortex, Tempest, and Ray Gun.
The Horde Invades Blackout, Plus New Rewards
Blackout is coming to Undead Siege in Season 11, adding a major new environment to the mode. You'd better prepare for a big fight, too, as Richtofen has some new gear in store for the most dedicated slayers, such as Dark Matter Weapon Blueprints and the Aether Crystal completionist camo!
New Themed Event — Ho-Ho-Hot Drops
Drop into Battle Royale and collect presents – or play Multiplayer matches – to earn points in this holiday themed event. Earn enough points to be granted a passcode that unlocks a special drop location in Battle Royale. Deploy to these hot spots and fight off incoming enemies as you battle around holiday decorations. Keep at it to earn special rewards.
Celebrate 12 Days of Deals
Call of Duty: Mobile is getting in on the holiday festivities with its own huge discounts on Operators and gear through daily special sales.
Beginning December 14 — just before the start of Season 11 — spread some holiday cheer with discounts on Crates, Draws, and Bundles. Each discount is available for only 72 hours after going live in the Store. Get a discount on the Ghost Loose Ends Bundle, the Holiday Draw Redux, and many more.
New Seasonal Challenges and Featured Events
New Seasonal Challenges bring a host of challenging tasks to complete in exchange for major rewards like new Weapon Blueprints, Weapon XP, the Special Ops 4 – Firefrost Operator Skin, and an assortment of cosmetic items to close out the year in style.
Later in the season, complete the Disc of Doom challenge to earn the deadly D13 Sector, a new Launcher that's a truly unique weapon, firing razor sharp discs that bounce off walls and into enemies. It's best used in narrow combat environments for devastating results. You'll also have the chance to earn an Epic ASM10 Weapon Blueprint and more.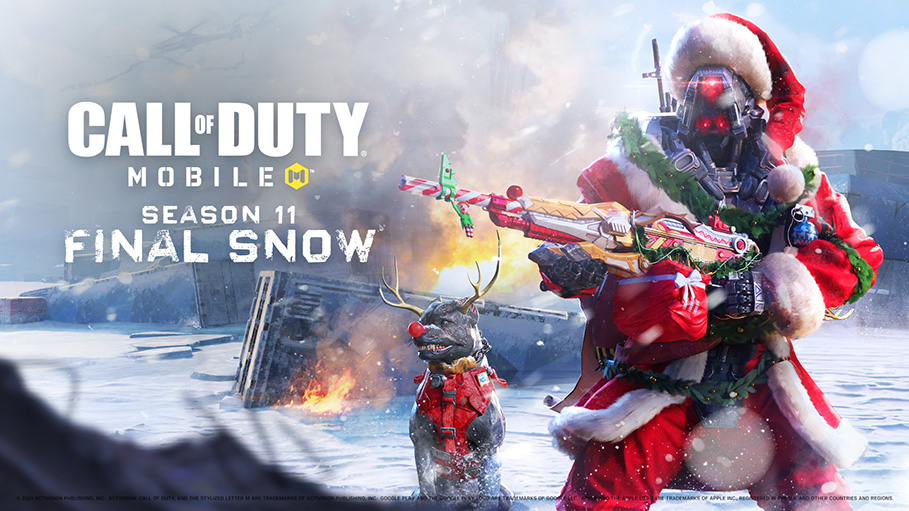 New Draws
The Season 11 Draws offer a healthy mix of Mythic Operators, Legendary Weapon Blueprints, and more. Get Firebreak and his toasty D13 Sector Blueprint, Dark Shepherd — Half Light and his Type 25 — Horseman's Pick, as well as Reaper — Naughty List with an assortment of holiday-themed goodies, plus a whole lot more.